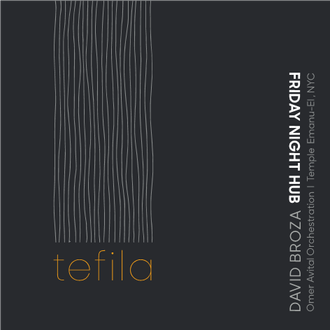 TEFILA
AVAILABLE NOW
David Broza and Temple Emanu-El announce the release of TEFILA, a new album of music for the Shabbat service, blending time-honored, traditional prayer lyrics with new musical compositions by David Broza and orchestral arrangements by Omer Avital.  The album is being released on Broza Records, and will be distributed digitally worldwide by MNRK Music Group.
The reimagined monthly Shabbat celebration, FRIDAY NIGHT HUB at Temple Emanu-El in New York City, incorporates music from the TEFILA album and is geared to young professional Jewish adults between the ages of 21-39.
The music of TEFILA (translation: PRAYER in Hebrew) encompasses several genres from pop and jazz, to gospel, folk and classical.  The album features 22 musicians – including string and horn sections, plus the 25-piece Moran Choir in Israel, gospel singers from NYC, piano, and percussion; as well as David Broza on guitar and Omer Avital on bass – and creates a uniquely singular cascade of sound.  While reverent to the intentions of the prayers themselves, the cutting-edge compositions recreate and reimagine the experience of the typical Shabbat service, making it contemplative, but also ecstatic and wholly engaging. The TEFILA album positively soars with moving and memorable performances, as the prayers of Shabbat are set in an entirely new light, encouraging participation of congregants through song and dance. 
One Million Guitars
One Million Guitars is a 501(c)(3) Non-Profit Foundation on a mission to impact the lives of millions of children around the globe through the power of a musical instrument.
Having early access to music education can transform the future of a great learner and affect the trajectory of their entire life. Apart from the subjective notion that music lifts the soul, it has been empirically shown that learners with the benefit of a musical training excel in other academic and creative domains. Yet so many of our brightest minds, those that can inspire future generations to improve our world, do not have access to a music education.
This all starts and ends with a kid with a guitar. Given the opportunity to surface the best version of themselves,  millions of like minded children around the world will unite in a global chorus of personal growth, potential, diversity and peace.
Join us on this quest to bring the empowerment of music education into the lives of millions of kids.