Broza's first endeavor at an all-instrumental guitar album is produced by Grammy-award winner Javier Limón. 
A longtime fan of the Spanish guitar, Broza has incorporated many styles of flamenco, jazz, classical into his performance repertoire.  Over the years, fans and friends have repeatedly requested a guitar instrumental album.  "After 43 years as a singer-songwriter, composing music without lyrics was a challenging task," shares Broza. "I had to perfect my playing to become a guitarist by trade.  It took a while – almost 3 years." 
The album was recorded at the Casa Limón Studios in Madrid, Spain, a "magical place" where some of the world's greatest guitarists, including Paco de Lucia and Tomatito, recorded their albums. 
Producer Javier Limón directed the undercurrents of nuevo flamenco to a confluence with Broza's other musical influences.  Says Limón: "David Broza is one of the few artists with whom I would embark on any adventure with my eyes closed. The result is the most beautiful and profound journey to the roots of the most popular and beloved instrument on the planet – the Spanish Guitar."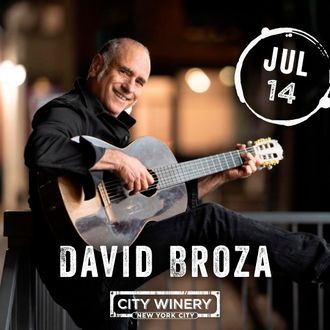 Solo Concert @ City Winery NYC July 14, 8pm
David Broza will perform his first NYC in-person solo concert at City Winery NYC, following a 14-month hiatus due to Coronavirus social distancing requirements.
"I have been performing almost daily with communities around the world, making the best of the situation, but still yearning to connect with audiences and friends," says Broza.  The concert at City Winery will be his first in front of a live audience in New York City since late February, 2020.
One Million Guitars
One Million Guitars is a 501(c)(3) Non-Profit Foundation on a mission to impact the lives of millions of children around the globe through the power of a musical instrument.
Having early access to music education can transform the future of a great learner and affect the trajectory of their entire life. Apart from the subjective notion that music lifts the soul, it has been empirically shown that learners with the benefit of a musical training excel in other academic and creative domains. Yet so many of our brightest minds, those that can inspire future generations to improve our world, do not have access to a music education.
This all starts and ends with a kid with a guitar. Given the opportunity to surface the best version of themselves,  millions of like minded children around the world will unite in a global chorus of personal growth, potential, diversity and peace.
Join us on this quest to bring the empowerment of music education into the lives of millions of kids.